Mineral Store has been trading since 2012. Tony identified a market for the supply of fine minerals and crystals into the Queensland and Australian market and set up the business to cater both for discerning collectors, and just about anyone who can admire the beauty and perfection of great mineral specimens. We usually trade at Gem and Mineral shows up and down the east coast of Australia, but presently all our shows are subject to late cancellation due to Covid19 so make sure you check Facebook to make sure we are going.
We are in Birkdale in bayside Brisbane, approx 30mins by car east of the Brisbane CBD. We predominantly trade from Gemshows however we sometimes are able to welcome visitors to home at Birkdale by appointment and hope to have our showroom open early in 2023.
Since opening, Mineral Store Australia has gained a great reputation amongst a loyal group of collectors and crystal admirers. We have our own Facebook page where you can catch up on the latest news on shows we attend as well as new material offered for sale.
Tony still regularly posts to the Australian Crystals & Minerals facebook page, adding images and regularly imparting his knowledge to the group. Say hello to him there, or else visit our own Facebook page.
We regularly travel within Australia and overseas to purchase mineral stock for sale. In the past 3 years Tony and Jude attended the Tucson, USA Munich, Germany and St Marie French mineral shows, purchased thousands of specimens and imported tonnes of high quality minerals into Australia. David joined Tony and Jude in Tucson in 2020 to meet many of Tony's contacts and absorb some of Tony's extensive knowledge.
We offer very reasonable prices on all our pieces, and with quality to suit any collector or institution.
A Brazilian Amethyst Quartz Geode with crystals of calcite spikes growing inside.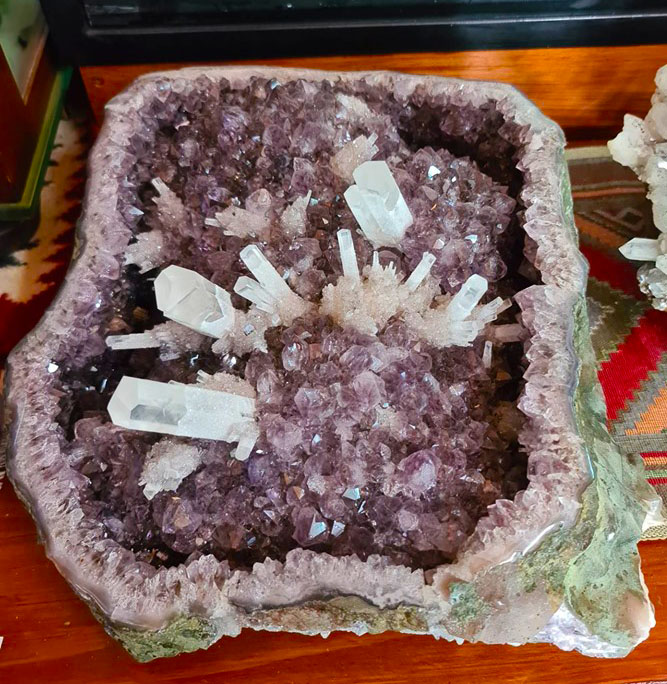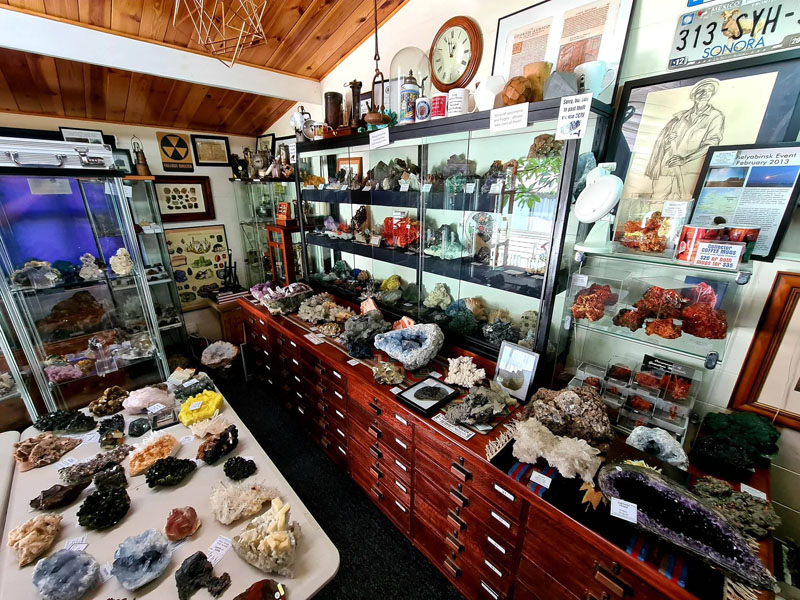 Tony and Jude's mineral showroom. A large set of mineral drawers from the old University of Queensland Geological Museum dominates the office. We have thousands of specimens to choose from in a large price range and quality!
David and Janelle are opening their own mineral room to the public by appointment in early 2023.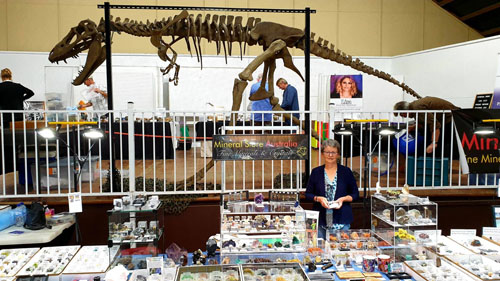 Jude Forsyth trading at a Show in 2019.

We can supply that special gift!
If you are after a special gift or piece for your collection, please contact us! We regularly travel overseas and interstate to purchase collections, so tell us your requirements and we shall endeavour to help you out.