Stocking a large range of high-quality collector mineral specimens & crystals
Hello from Mineral Store stocking Queensland'S largest range of fine minerals and crystals
Mineral Store Australia was founded by Tony and Jude Forsyth in 2012. Tony has been an avid mineral collector for over 50 years and Mineral Store Australia was established to allow them to bring a large selection of minerals and finely crystallised specimens, collected over countless years, to the market.
Tony is a past president of the Mineralogical Society of Queensland and is also the current Honorary Curator of the Minerals Heritage Museum located within the Queensland Museum at Southbank in Brisbane.  
In June 2021 Tony and Jude retired and sold the business to David and Janelle Bissett. David is another long-time collector and began dealing at shows in 2009. David and Janelle are local to Tony and Jude in Brisbane and are well known for their current business – Australian Rocks and Minerals. David was the purchaser of the Norman Donpon Estate Collection in 2018 and has an extensive knowledge of lapidary work as well as mineral collecting.
David and Janelle aim to follow on from Tony's passion for minerals and collecting which means that you will always receive sound advice and quality specimens at fair prices. Please feel free to contact us if you have a special mineral requirement, a collection to be appraised or a special specimen for a present. We offer vouchers as presents for a special occasion.
Mineral Shows in 2021

Due to COVID19 the show circuit is still in disarray! Please revisit to see our latest information. If you are having withdrawal symptoms, why not visit our Mineral Sales Page!
Specimen Valuations

Tony Forsyth is approved by the Federal Government to value Mineral specimens, gold specimens, gem crystals and meteorites
"Approved to value for the Australian Government's Cultural Gifts Program"
If you would like a valuation please contact us and we will pass your details on to Tony.
Iconic specimens!
In 2020 we purchased a fabulous old specimen to repatriate to Australia! Nickname "Brutus" by the buyer, it is a 43kg jackstraw specimen of cerussite from Broken Hill, NSW, Australia.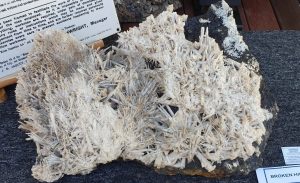 Mineral Store Australia is looking forward to attending shows when current restrictions end. Please give us a call or check Facebook to confirm that shows are on before travelling to a show during these uncertain times.
Visiting our mineral showroom

We are in the process of setting up a display which will be able to be visited by appointment at Birkdale on Brisbane's Bayside. The below picture shows Tony's well stocked room – we look forward to having our display up and running in the latter part of 2021. In the meantime we will be adding to our online stock as well as providing a list of all of our stock.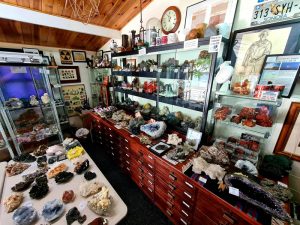 International Mineral Shows

We travel extensively overseas to purchase the very best specimens to sell within Australia. Obviously due to COVID we haven't travelled since February 2020, but hope to in 2022. In 2020 David attended the Tucson Arizona USA show.
In past years Tony and Jude have made multiple visits to the Munich Show and the St Marie aux Mines show in France.
LATEST UPDATE – ALL 2021 CALENDARS NOW SOLD OUT
The annual Mineral Store Australia calendar has been a keenly awaited release each year for the past 9 years – adorning walls well beyond the calendar year. With superb photography from Tony Forsyth we are hoping to produce one for 2022.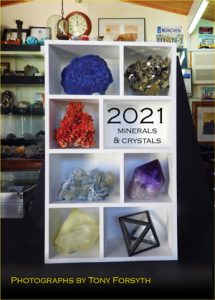 Australian Mineral Shows

COVID19 has meant that we are forced to sell much of our stock online. Please check often to see what new material is added.
A list of all Gem and Mineral shows is linked here for your convenience.
Tasmanian Crocoite
In October 2017 we obtained a large quantity of the rare mineral, crocoite, mined in the early 1990s at the famous Adelaide Mine, Dundas, Tasmania by the late Frank Mihajilowitz. This 33cm specimen was our latest delivery!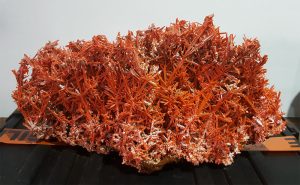 OUr 2021 Australian mineral show schedule 
DUE TO UNPRECEDENTED CANCELLATIONS BECAUSE OF COVID19, PLEASE CHECK BEFOREHAND
Minerama – Glen Innes, NSW
12 -14 March 2021
Mudgeeraba – SE Queensland
27 March 2021
Lismore Gemfest, NSW
15 -16 May 2021
Redcliffe Gem Show, SE Qld
22 May 2021
Bankstown Gem & Mineral Show, Arena Sports Club, Yagoona, Sydney, NSW
5 – 6 June 2021
Hervey Bay Lapidary Club Show
3 – 4 July 2021 Postponed due to Covid
Rockhampton Gemfest – Rockhampton Showgrounds                                                August 21 – 22 
Ipswich Gemshow  Silkstone State School – Molloy Road Silkstone. September 4.
Bribie Island Gem Festival. Community Arts Centre. 191 Sunderland Drive Banksia Beach Bribie Island. September 11th – 12th 
Gemkhana – Hawkesbury Showgrounds NSW. September 25th – 26th. 
Beenleigh Gem Festival – Beenleigh Showgrounds October 2nd
Nambour Gemfest – Nambour Showgrounds. October 9th
Toowoomba Gemfest. Centenary Heights State High School Hall. Cnr Ramsay and South St Toowoomba. October 16th -17th.
 Bundaberg Gemshow TBA
Please Note: In addition to purchasing mineral collections we also purchase lapidary material. We do not purchase cut gemstones.

We stock back issues of the Mineralogical Record as well as the Australian Journal of Mineralogy!
We have over 600 new and used copies of this great mineral resource available for purchase. Please check the stock list for price (AU$) and availability. Correct as at 04/2021
(Discounts may apply for multiple buys – please ask)